Welcome back players! We're kicking off Adventures in the Forgotten Realms Pre-Release weekend by bringing back in-person events! In order sign up we're going to need you to register with the new Wizards Companion App, and don't worry, we'll help get you set up.
To get started, download the app with the below links. You will need an email with Wizards in order to sign into the app.
Download the Companion app for IOS or for Android.
If you don't have one already, create your account with Wizards here.
Once you're all set up, hit the Join tab at the bottom of the Companion app and enter in the 6-digit code for the game you'd like to join.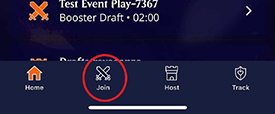 Here's the list of dates, times, and codes:
Friday July 16 @3 PM, 7JNYQ8
Friday July 16 @7 PM, MNZJP6
Saturday July 17 @2 PM, 2ZXQEW
(If you're having a little trouble, worry not! Check this link here for more information about how to use the app.)
This event will cost $35 per person; you will receive a pre-release box and there will be prize support. If you'd like to prepay, You may do so here.
Please note which day you're paying for in a comment at checkout. Or, you can pay at the door when you get to the event.
For purchase of Adventures in the Forgotten Realms product, check out this link here, or buy in store on game night.
We hope to see you there! Let's play!